What does Lumière Movies do?
Lumière Movies WordPress plugin helps you integrate loads of information about movies and starts. Widgets, links to informative popup, dedicated taxonomy pages, are available. You even can include movie's information into your posts ! Everything is automatised: although the plugin works flawlessly without any need to change the settings, your can change the themes, add taxonomy to your pages. Directors, pictures, all the information is retrieved from the famous IMDb website. It ensures that you have the most accurate and reliable information always available on your blog.
Many features are available in the wordpress editing interfaces (Gutenberg, Visual editor, widget, and HTML editor).
Lumière! is a great tool to illustrate your articles. It is an amazingly versatile plugin: users can display movie details through many ways: popups, widget, and straight inside the article. Finally, it can be extensively fine-tuned in the admin panel.
There are three basic ways to use it:
1. Make a clickable link to a popup:
2. Insert into a widget your movie (see the sidebar on the right-hand)
3. Integrate a movie directly inside your post:
Writers:
(written for the screen by)
In addition, you can use WordPress taxonomies to automatically group all your posts tagged by directors, keywords, etc.
Lumière is a great tool to inform yourself and to provide many trivias on your post! It is very versatile and multi-functional. Blogers can display data in many ways fine-tune data with admin options and css.
Development
The plugin is hosted on github. Feel free to fork, participate in the development, ask your questions there.
Download
basic options
There are three ways to use Lumière! plugin: the popup link make, using a widget and putting movie details inside a blog post. Each option can be combined with any other; there is no limitation!
1. When writing your post, add embbed your nameMovie with <span class="lumiere_link_maker">nameMovie</span> tags, or much easier, just use the Lumière's option in your prefered visual editor. A link that will open a popup will be added to your nameMovie. The popup contains much data related to the movie, and can extensively browsed.
2. A Widget can be activated, and used in a way where informations will be displayed inside it. Once widget is activated, look closely to select what you want to display on your sidebar: options are available on Lumiere Movies admin settings tab. Check faqs.
3. The plugin can show IMDb data inside a post. When writing your post, put the movie name inside tags [ imdblt][ /imdblt] (ie [ imdblt]Fight club[ /imdblt]).
Fine tuning:
1. If you're familiar with CSS editing, you may edit the section tagged "/* —- imdbincluded */" in css/lumiere.css file to customize the layout according to your taste. You can copy the lumiere.css file into your current template folder so your modification will make it in spite of Lumière!'s updates.
2. A (front) page can be created to include all you movies' related messages. Have a look there : personal movie reviews' page.
Advanced:
1. If you do not want to show any link to open the popup windows (in the case you are only looking for information displayed in widget and inside posts), search for the option located in "General options -> Misc -> Remove popup links?" and select "yes". Links opening a popup (both in widget and posts) will not be be available anymore.
2. Should you want to display automatically a widget according to the post's title, just switch on the "Widget/Inside post" option located in "General options -> Advanced ->Auto widget" in the plugin admin. Usefull for blogs exclusively dedicated to movie reviews.
Option pannels:
Everything (or so) can be modified in Lumière WordPress plugin. Take a look at the option panels.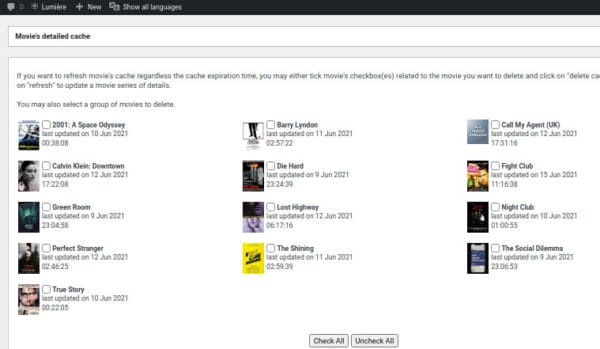 Faq
How to add the Lumière! Movies widget?
First, go to "design", "widget", add "Lumière movies" widget to a sidbar (click on "add") and change the box's title (should you want the box named differently).
Secondly, edit your post (or write a new) and use the Lumière box to include a movie's name you want to display. That's it!
How to display movie data inside my message?
When writing your post, put the movie name inside tags [ imdblt][ /imdblt] (remove spaces).
I don't want to have links to a popup window!
Look for "general options / advanced / Remove popup links?" and switch the option to "yes". No links will be displayed anymore, both for widgets and within your articles.
Can I suggest a feature/report a bug regarding the plugin?
Of course, leave a message right here.
How to support the project?
Under the GPL licence, "Lumière Movies" is based on tboothman's imdbphp php library. However, a huge customization work was required to implement it to wordpress; many new features have been developed. Should you feel in a generous mood, please send me something by Paypal.
Known issues
1. TinyMCE is not working the way it should. Only basic features are available at the moment. I'm working on it.
2. If you are updating from the previous IMDb Link Transformer plugin, the plugin's option will be messed up. Reset Lumière! options.
3. Lumière! help section in the administration of the plugin is massively outdated.
Release history
Check Lumiere Movies changelog here
Special thanks
Thans to tboothman for making the IMDbphp classes available.
Before asking for help or improvements here
1/ Have you read the extensive help provided in the plugin? Have you had a look at FAQs and How-to in the "help" Lumiere Movies menu?
2/ Please explain your issue and report the basics: what's the name of the movie you have a problem with, is the issue happening for all movies or only for the one you mention, if you have tried to go through WordPress « Debug mode », what are your Lumiere Movies, PHP, Apache and wordpress versions, have you tried to unactivate all your plugins but Lumiere Movies, etc.
Please bear with me, I won't answer messages which don't comply with these points.